Caldecote Curriculum
Our vision is to foster a lifelong love of learning through adopting a highly practical and cross-curricular approach to education. The 'Caldecote Learning Tree' aims to deliver a 21st century education that will equip our pupils with the skills required to be an independent and responsible citizen. The curriculum is the means by which the school achieves its objective of educating pupils in the knowledge, skills and understanding that they need in order to lead fulfilling lives. The school motto is 'Happy, Healthy, High Achieving' and we strive for the school to be a place where these values thread through everything we do. In addition, we aim to:
Ensure every pupil reaches their full potential and meets the high expectations set for them
Be a place where pupils celebrate their successes with others
Create an environment where pupils feel happy and secure in their learning and play
Encourage pupils to be enthusiastic, committed and engaged in all areas of school life
Strengthen their learning with healthy, balanced diets and activity
Develop their skills so they are able to work collaboratively as part of a wide community
Teach them how to show respect, consideration and support for everyone and the environment
Value that each pupil is unique and provide a curriculum that respects the views of each individual pupil as well as people of all cultures
Caldecote Learning Tree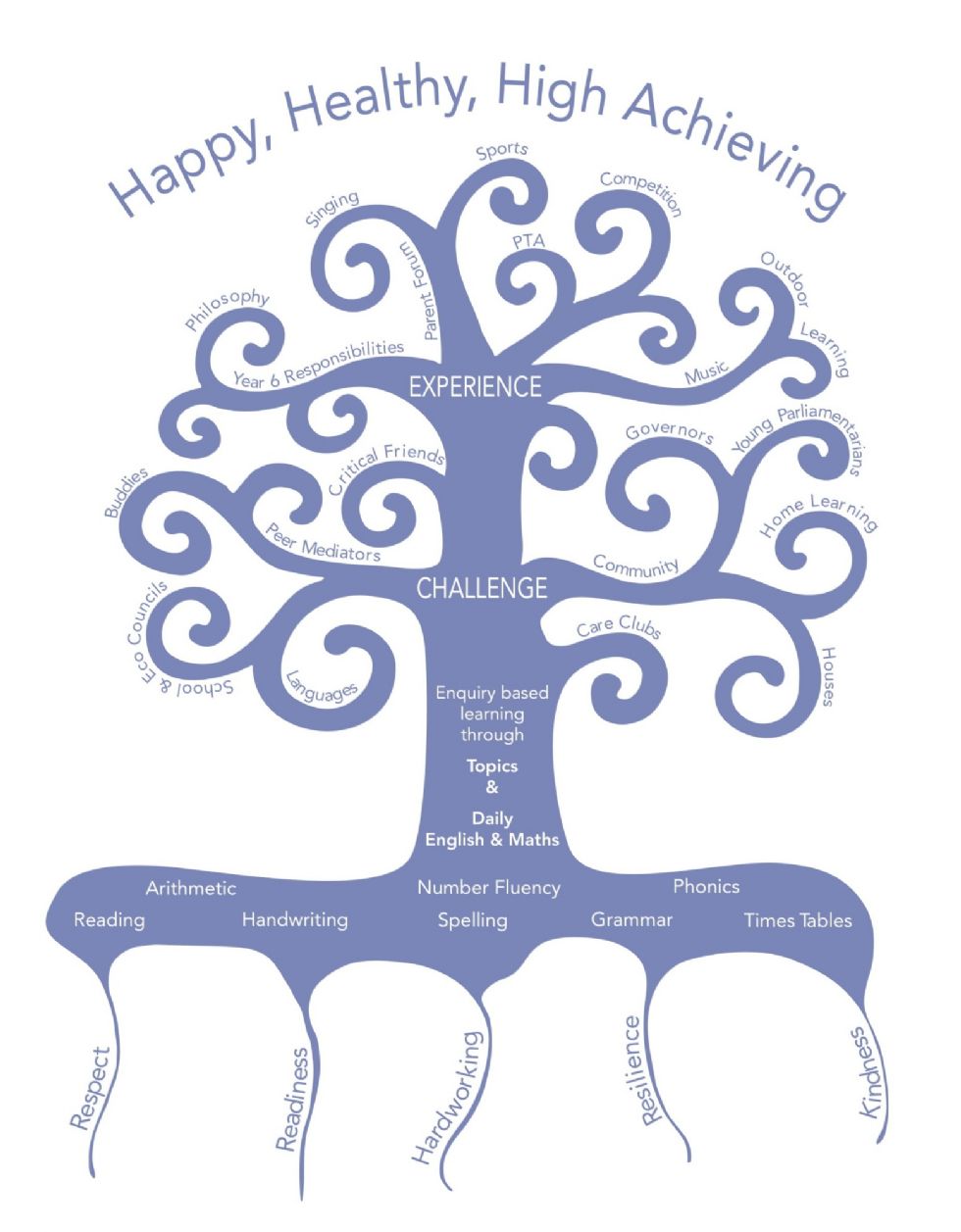 The 'Caldecote Learning Tree' is a visual representation of how our curriculum is organised and taught:
The Roots: Respect, Readiness, Hardworking, Resilience, Kindness - these are the values that underpin and thread through all aspects of teaching and learning. Pupils are actively encouraged to develop and demonstrate these values and they are publicly celebrated in assembly weekly.
The Foundations: Reading, handwriting, spelling, grammar, phonics, arithmetic, number fluency, times tables – all classes teach these basic skills every morning in focused sessions
The Trunk: learning through topics with daily English and Maths and which includes Experiences and Challenges: all subjects are taught through a half or termly topic. For each topic there is an 'Experience' which is intended to enthuse and engage the pupils and these are often used to launch a topic or to consolidate prior learning. There is also a 'Challenge' to develop a range of skills that are additional to the National Curriculum e.g. assessing risk, public speaking, team resilience, etc.
'11 by 11' Character Education: in addition to assemblies, PSHE, sports and performance lessons, our '11 by 11' curriculum sets out activities that pupils will complete by certain ages, i.e. 5 activities by the age of 5, etc. These opportunities help pupils to explore and express their character and build the life skills needed for resilience, empathy and employability
The Branches: eg singing, peer mediators, competition etc.– these are all the areas of the wider school curriculum that enrich learning
We try to capitalise on as many first-hand experiences as possible and regularly invite visitors into school to enhance the pupils' experiences. We also make careful choices regarding trips and visits ensuring that they always enhance and extend school learning.
It is our belief that all the components of our Learning Tree ensures that all pupils at Caldecote Primary School have the opportunity to be 'Happy, Healthy, High Achieving' learners irrespective of their ability, background or culture.
Whole School Curriculum - Individual Subjects
Click on the links for the subject curriculums including assessment criteria